Paramount has recently announced the extension of its repair capabilities to include the repair of:
The Swift Drive also is known as QUANTUM QUIET DRIVE is a recent range of Lift drives by ThyssenKrupp Elevator.

The drive is used to power the main motor of the lift car, to transport people smoothly, accelerating and decelerating between floors.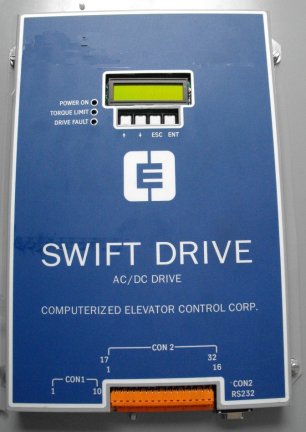 Energy efficiency. Inertial energy normally lost in braking between floors is recovered and stored in large banks of capacitors for later use.
Versatility: Ability to drive an existing AC or DC motor in a retrofit situation.
Reliability: Uses modern intelligent power modules with protection circuitry.
Paramount Electronics Ltd was recently called upon to provide repair support for a series of Swift Drive E Series drives, which had been poorly maintained, risking the integrity of the lift installation in which they were fitted.
The drives are fitted with intelligent power modules which are both expensive and hard to obtain. We have developed test techniques that permit us to validate the functioning of these modules including determining any failure signals.
We have also recommended a preventative maintenance programme which will ensure that the drives will continue to provide excellent services for a number of years.
Paramount Electronics Ltd was established in 1989 for the repair of complex industrial and commercial electronics. It has developed a large customer base around the world for the repair of electronics in many sectors including Printing, Industrial Controls, Shipping and Navigation, Power Generation, Oil Extraction and Lifts. Major corporations rely on Paramount for fast and effective electronic repairs of critical equipment.